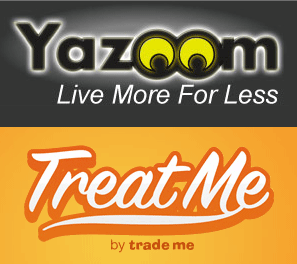 You will have seen the new (long) TV ads for Yazoom by now. Yazoom is the latest in a growing range of special discount websites that market businesses products or services direct to the public. It works in the same way the GrabOne or DailyDo websites do. Yazoom is promoted by Brand Developers Ltd, which is the company that runs all the "TV Shop" advertising that offers products and brands like: Thin Lizzy, The Ab Circle Pro and the Transforma Ladder System.
Yazoom seems to have a strong focus on promoting existing retail and is currently offering the chance to win a $10,000 voucher from Westfield. You don't have to be a rocket scientist to work out that at least initially, Yazoom will most likely be offering discounts from Westfield shopping centres.
What surprises me about Yazoom is that when you visit their website, you can't see a thing without registering first. I understand that they want to capture an audience, but there is an understandable reluctance to hand your email out to someone if they won't share what they're offering first. Spam email is an ever-growing problem and I think that people need more encouragement than ever to sign up to anything. Perhaps the $10,000 gift voucher draw will be enough to entice subscription?
Hot on the trail of Yazoom and launching tomorrow, is TradeMe's version, called TreatMe. TreatMe (as it's name indicates), looks like it's offering more of a localised personal experience, than a discount shopping approach. This pits Yazoom squarely against GrabOne and TreatMe against DailyDo.
As TreatMe has access to TradeMe's massive subscriber base, it will be interesting to see if DailyDo can survive that kind of competition.
If you're a business interested in using these services, you can find out more about Yazoom here and TreatMe here. However, be prepared to discount heavily. If these websites are anything like GrabOne and DailyDo, they will expect 50%+ discounts before even considering offering you the chance to use them. It's great to sell 200 new customers your service but if your profit  is drastically reduced and you're having to turn away your regular customers, you may be shooting yourself in the foot. Make sure you can handle the increased business without affecting your normal income and that you're still making a profit after including other costs such as extra staff time on top of any product cost.