I'm getting used to hearing complaints about Yellow Pages New Zealand and their web design services. So when Jill from Decor Revived contacted me to rebuild a Yellow Pages site she had only just got, I was surprised to hear that Yellow had put the website together very quickly. One of the complaints I've heard is that it can take a long time to get anything happening. Web design should be a process the client is fully involved in.
Get Website Help
When I met Jill for her initial website consult, it turns out that she had never agreed to buy a website from Yellow Pages. Her Yellow sales rep had contacted her repeatedly about it but she had never actually signed anything or gave the "go ahead" verbally or via email. You have to admire them for their enthusiasm I suppose!
Looking at the website Yellow had built for her, I could see that it was one of their typical "bog-standard" template designs that make Yellow websites all look the same to me. Yellow's standard websites have set-up costs from nothing to around $700 and charge monthly fees as well as ongoing fees. Yellow Pages web services are done in bulk. It's a response to continually falling sales of their print directory. Yellow Pages Group have been making losses in the tens and hundreds of millions. They are now owned by a consortium of bank lenders who took over in 2010 and made their first profit for many years in 2013. Yellow Pages NZ have built websites in the past but sold that division to an Australian company called Yodel when they realised it wasn't working for them. The NZ Herald reported in January 2014, the following, which relates to the trading company who actually sell the websites in NZ.
NZ Directories Holdings, which owns the Yellow business, narrowed its net loss of $12.5 million in the year ended June 30, 2013, from a loss of $78 million a year earlier when it took impairments totalling $112.9 million against goodwill, brands and customer relationships, according to its annual report. Impairments in the latest year were $41 million.
So what did Jill's Yellow Pages website look like? Here's a picture of it below…
You might say "What's wrong with that?". Yes, it's very basic and probably won't win any design awards but it worked as it should do. There were just a couple of things that weren't quite right…
Jill's business is in New Zealand and doesn't sell Aboriginal art
That's not a photo of two people standing outside Jill's shop. That's not Jill's shop!
Now, I think I have a pretty finely-tuned nose for bullsh*t and the content in the website set my nose twitching! There must be more to this. Aboriginal art is not something you see a lot in New Zealand and I knew from previous Yellow Pages experience that some of their NZ services rely on resources in Australia. Doing a search on Google, I was able to find a couple of other websites that Yellow Pages had built – Seeone's Stamps and Comic Kingdom. Both collectables businesses like Jill's but all three businesses offering completely different products. See any resemblance?
These are predominantly duplicated websites with little more than the business name and the contact details changed. They even have the same bylines under their business name in the header.
(Added 20/6/2014) Yellow Pages NZ General Counsel, Michael Travis says that the other two websites; "appear to have been built by Yellow Pages Australia, which is a completely separate and unrelated entity to Yellow. The connection you make is therefore wrong and misleading". So to clarify, Yellow Pages NZ didn't sell the same website three times. It appears that Yellow Pages Australia may have sold it twice and Yellow Pages NZ only sold it once. Since writing this article, all three of these sites have been taken down, so unfortunately, I can't provide links to them.
Why shouldn't Yellow Pages do this?
You might say that "you get what you pay for", and to some degree, you would be right. However, duplicating a website and changing the name and phone number in the title might take about 30 minutes if you were really slow. Yellow is charging premium hosting prices for their free websites where copywriting is not provided.
I think that this is really disrespectful toward the client. At what point in the sales process did the Yellow sales rep say; "Hey, we've already used this website for a comic store and a stamp shop, so how about we use it again for your antiques business?". Never! Where is the attention to detail? The consultation with the customer about what they are trying to achieve or how they want to be branded? Why would a website that is clearly nothing more than an un-personalised template be sold as a valuable internet marketing tool? Helping small businesses with their internet marketing is not like selling a matchbox-sized advert in a print directory. You can't just copy an advert from another area and use it again in a different town.
Buying a website that is effectively a copy of another website is a pointless waste of money for the customer. Google explains how duplicated content can be detrimental to a website's ranking. Perhaps Yellow don't know this? In their own comparison table, they say that they do SEO for the free (Starter) websites but do not provide personalised copy. However, they do provide copy duplicated from other websites and then make the customers website live. This is a contradiction. The website is not search engine optimised if it is full of duplicate content. Getting copy from a customer is probably the hardest part of the web design process but that is no excuse for sabotaging a customer's online presence by taking advantage of their ignorance and calling it "finished".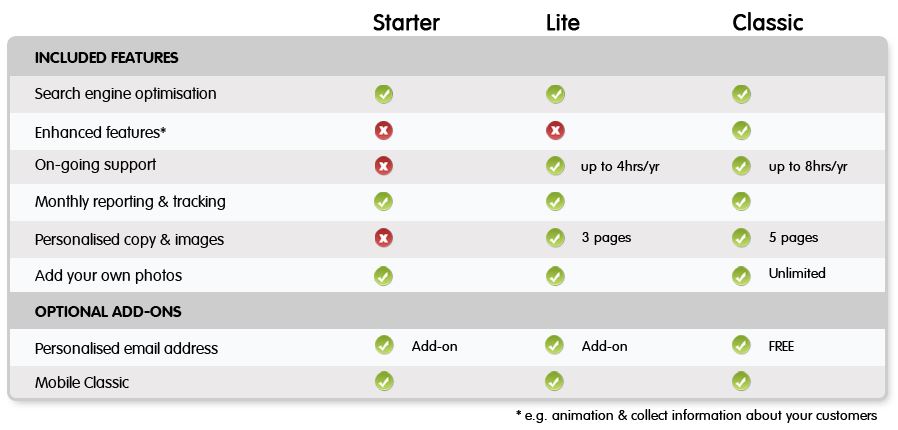 Yellow Pages Taking Legal Action?
20/6/2014 – Since writing this article, I've been contacted twice by Michael Travis, who is the General Legal Counsel for Yellow Pages Group. He's threatened legal action (using external lawyers) both times, unless I either;
a) Correct all of your misleading/incorrect statements (not just the ones mentioned above – there are numerous other incorrect statements in your blog post) and remove our trade marks and copyright material from your website, or
b) Remove the blog post altogether.
I have since made a few corrections and removed their logos but it is quite hard to correct errors that I am unaware of and Michael is unwilling to identify. I have tried to present factual information from Yellow Pages websites and other comments are the opinions or experiences of my own or my clients. As of 20th June 2014, I have seven days to comply or I am told I will be contacted by lawyers acting on behalf of Yellow Pages.
What else are Yellow Pages doing?
Yellow have extended their internet offerings into a number of other areas, including SEO, Domain name registration and set up of Google Plus pages for business. Their SEO is a fairly new branch and I have yet to see a client that has paid for that service. It is quite expensive to have an initial audit ($2500) but further than that, I can't comment. I have had experience of their domain registration and Google+ Page set up.
Domain Name Registration
So far, I've had to move two domain names from Yellow Pages to my own account after taking over "distressed" customers from them. Both times it took weeks to get the codes that allow the domains to be transferred.
My first experience with Yellow and how they manage domain names was with a building consultant client. It took several weeks to get the UDAI to be able to access their own domain name. In the process, Yellow staff members variously claimed that they actually owned the domain name, that it would take a few days to get a code and that there was nothing they could do to speed it up as it was handled from Australia. Yellow Pages NZ have a complex domain management process that involves offices of three different companies in no less than four countries. We can provide a UDAI in less than 5 minutes of receiving a request.
Google+ Pages by Yellow
Here is their current offer (below) at the time of writing. It was $399 for Google+ page setup and $29.95 per month for "maintaining your Google Plus account". (continued below…)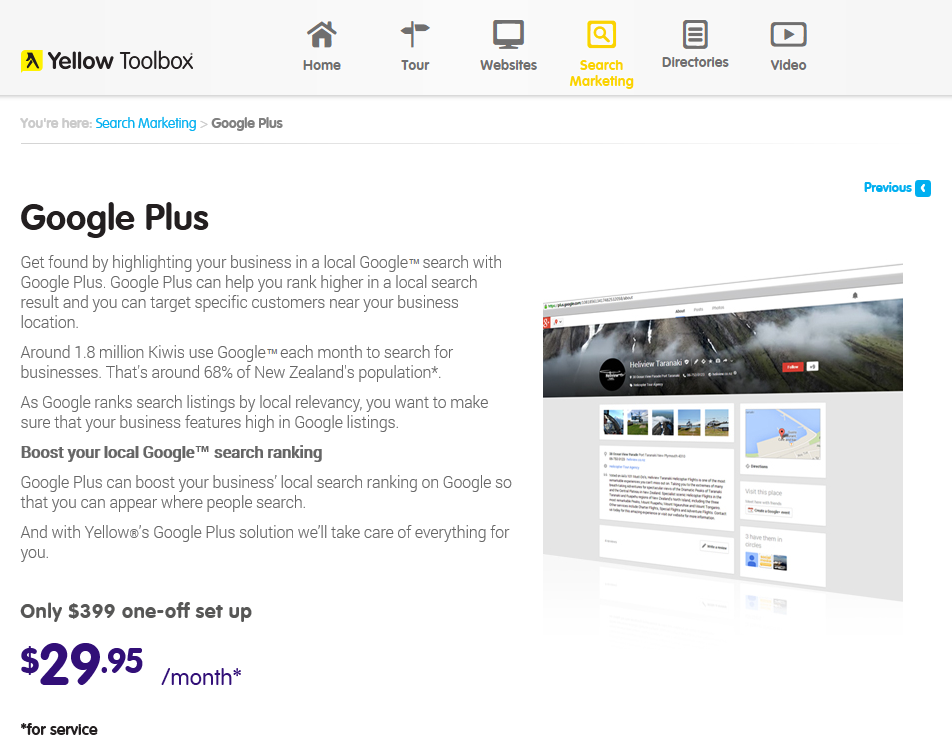 There are a number of problems I see with this offer. It's not the set up price, although I would say that it is very high for what they do. It's not that they are charging a fee for Google+ ("for service") even though Google will send the client reports for free if they opt into them. My issue with this is that from the customer accounts I've seen, Yellow are adding basic business information to (mostly existing) Google+ pages and nothing more. Worse, the Google+ Pages that they are setting up are not owned by an account the customer controls – they are owned by Yellow Pages. Furthermore, on the accounts I've seen, Yellow don't seem to be offering any kind of service at all in relation to the Google+ page.
They do not have original profile pictures or cover images.
They are not updated with any ongoing content.
The customer has to request ownership of their own Google+ Page.
There shouldn't be a monthly charge for a Google+ page listing that is not updated.
AdWords Management
In addition to the Google+ Local pages, Yellow Pages are also offering AdWords Management. How well the accounts are set up will depend on the skills of the individual doing the job. However, what my clients have found annoying is that there is very little information on what is actually happening. The pricing for their "Search Marketing" is from $99.95 per month. As you'd expect, Google AdWords costs are on top of this but what are you actually getting for your money? In the example report below, all the client is being told is that they got 22 clicks to their website, that Google charged then $32 for and that Yellow charged them $100 to manage it. There is no information about what keywords the viewers were searching for, what Yellow have actually done for their money or what they intend to do. Where is the value?
What should you be doing?
Yellow are a big company. Huge. You're not going to be dealing with someone who is intimately involved in your business. If you want more personal attention, then you'll need to deal with a company that values relationships and doesn't sell their services to a mass market. Yellow Pages are notorious for their high turnover of staff. One of the complaints I hear a lot if that the person they dealt with last week doesn't work there this week! Chances are that your contact is going to be a sales rep, not a specialist in web design, SEO or internet marketing.
Get Website Help
Try to learn a little bit about the services that you are being offered. We like to explain in simple English, what we will do and how we will do it. You don't have to be an expert, just ask some questions, so you know what your expectations should be.