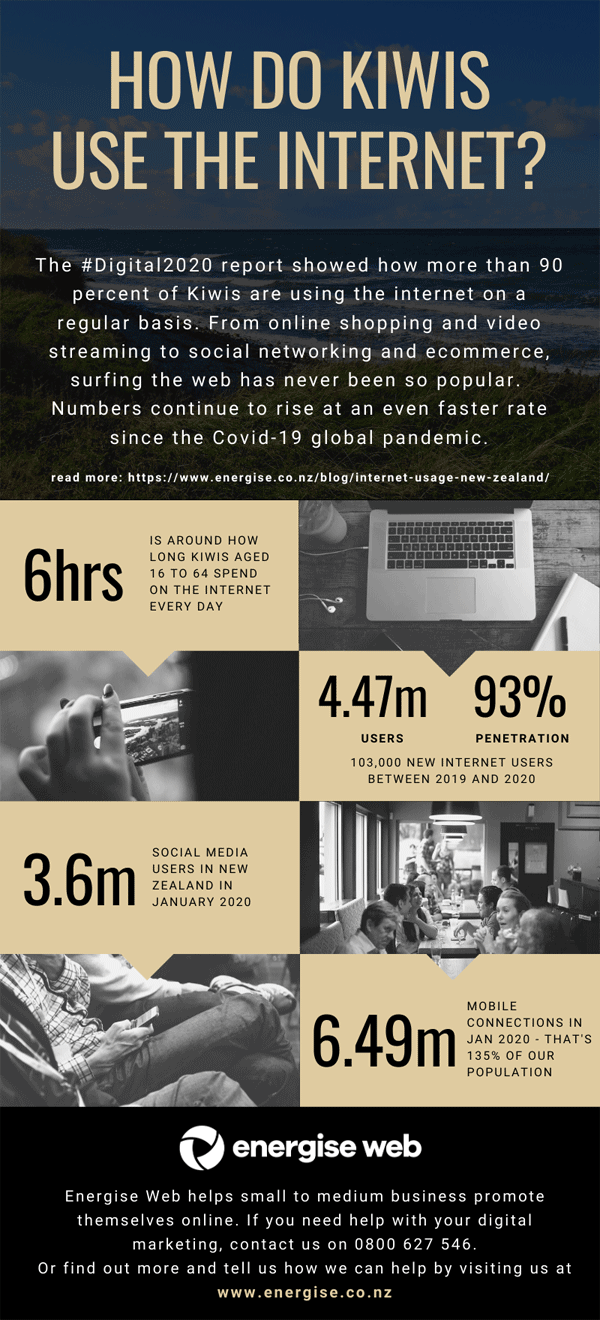 Internet usage in New Zealand is on the rise. According to the #Digital2020 report, 4.47 million people between Cape Reinga and Stewart Island were using the internet in January 2020, an increase of more than 2% within just one year. Considering New Zealand's total population of 4.8 million, it seems that at 93%, almost every person in the country is accessing the internet in some way.
General insights
The report found that people between the age of 16 to 64 spend around 6 hours daily on the internet, with social media being accessed up to 1h 45min on average. Smartphones have become the preferred method to surf the world wide web, making up 46.8 percent of all usage. That is an increase of 28 percent over the period of one year. In comparison, internet usage via laptop or desktop computer has dropped by 15 percent to a total of 46.3 percent. Tablets seem to have lost their appeal for most, dropping by 25 percent down to 6.8 percent of total internet usage.
In a year that was dominated by a global pandemic, it comes as no surprise that terms relating to Covid-19 and the coronavirus were leading the Google search rankings in 2020. Kiwis were also intrigued by the US elections as well as world leaders including North Korean leader Kim Jong-un in first place, followed by former US-president Donald Trump and UK Prime Minister Boris Johnson.
In overall searches, Zoom was also highly searched with thousands of workers setting up their offices at home and communicating with colleagues via online meetings. Especially during the lockdown, "How to…"-searches were also increasing significantly as Kiwis had plenty of spare time to start new hobbies or projects. DIY face masks and hand sanitisers were the most popular queries, followed by baking inspirations and recipes.
When it comes to surfing the web itself, the 3 most used websites in New Zealand at the moment are Google.com followed by YouTube and TradeMe. According to Alexa Traffic Rank, which is based on a combination of average daily visitors and pageviews over the past month, Facebook is currently ranked #4 with Google.co.nz and Reddit right behind. Netflix, Myshopify, Wikipedia and NZHerald finish off the Top10.
Social Media usage
In January 2020, New Zealand reportedly had 3.6 million active social media users spending on average 1h 45min daily on social media platforms. With 75 percent of the total population engaging on social media, this means an increase of 3.5 percent between April 2019 and January 2020. Each internet user has an average of 7 different social media accounts and 98 percent of all users state they mostly log in from their mobile devices. A third of all users also report that they are using social media for work purposes.
YouTube
Though not a social media platform as such, YouTube does compete with more traditional networks for audience and advertising. Therefore, it is often included in comparison statistics and ends up being the most popular social media platform with 88 percent of internet surfers using YouTube. It is highly demanded by younger generations aged 34 and below, and searches are mostly done for the terms song/s and music, with movies ranking 5th followed by Minecraft (6), New Zealand (10) and children's popular Baby Shark (11) and Peppa Pig (16).
Facebook
Second among the most popular social media platforms is Facebook with a dominating 84 percent. An astonishing 97 percent of all users access the network from their mobile devices at some point. While 41 percent claim to use their smartphone as well as desktop and laptop computers, more than half state that they use Facebook exclusively on their mobile. Facebook is most popular with younger generations and according to socialmedia.org.nz reports the highest usage in the age group 25 to 34. In total, Facebook claims to reach 3 million Kiwis with their advertisements which means 75 percent of the population aged 13 and above.
Top Ten continued
New Zealand's Top Ten social media networks also include; Facebook's Messenger (72%), Instagram (52%) and Pinterest (35%) followed by WhatsApp (33%), Snapchat (30%), LinkedIn (29%) and Twitter (25%). Skype completes the list with 22% of usage reported. While Instagram reportedly reaches 1.7 million people over the age of 13, it is most popular in the same age group as Facebook, 25 to 34.
Pinterest, on the other hand, seems to be favoured by older generations (45 to 54) with Twitter attracting older and younger people almost equally and being most favoured by 35- to 44-year-olds and 55- to 64-year-olds. Being a platform for business people, LinkedIn is most attractive for 35- to 44-year-olds.
Streaming services
Accessing music and videos online has never been easier in New Zealand. The list of streaming services is constantly growing, and Kiwis are making the most of it. 94% of all internet users are regularly streaming videos, 63 percent are streaming music and roughly 35 percent are listening to vlogs, online radio stations and podcasts.
Whether it is market leader Netflix, newcomer Disney+, TVNZ On Demand or one of the other competing services. According to Scoop, 75 percent of all Kiwis are paying for at least one streaming service. Watching content online is especially popular for Kiwis aged 25 to 54 (87%), and even more than half of generation 65+ regularly tunes in (64%). Almost a third of 18- to 34-year-olds also uses illegal streaming services, males (20%) more than females (13%).
Mobile internet usage
Mobile internet usage is on the rise. In January 2020, there were 6.49 million registered mobile connections throughout New Zealand, 135 percent of the total population. 96 percent of those had a broadband connection included, browsing the web using any of the 3G to 5G networks. The majority of Kiwis is now accessing the internet via smartphone, making it more popular than surfing from a traditional desktop computer or laptop. Android is still leading the market in New Zealand, making up 53 percent of all smartphones sold in the country with IOS not far behind (47%).
The most common activity is engaging on social media, with 90 percent of all mobile phone users having social networking apps installed. Highly popular are also chat and messenger apps (86%) followed by accessing online maps (79%) and video or entertainment apps (76). More than half of all users are also using mobile phone banking (55%) and music apps (52%). Further down the list are online shopping apps (49%), games (46%) as well as health and fitness apps (28%) and dating (8.7%).
E-Commerce
Kiwis love to do business online. 80 percent of New Zealand's population aged 15 and overpays their bills online. Women seem slightly more interested in online banking with 81 percent having made online transactions compared to 79 percent of all Kiwi blokes.
Ecommerce nationwide has also increased over the last few years. In 2020, more than 9000 new online retail stores have started doing business within the country according to data released by the NZ Ecommerce Association. While many Kiwis had already enjoyed the benefits of online shopping previously, the nationwide lockdown due to Covid certainly had a major impact on a spike in online retail.
During their research, the makers of the #Digital2020 report found that 88 percent of all internet users between the age of 16 and 64 had searched online for a product or service within the last month of the survey being conducted. 70 percent stated they had visited an online retail store and 72 percent claimed to have bought something online.
Notably, unlike other areas of internet usage, online shopping is mostly done from laptops or traditional desktop computers (51%) while only 37 percent of users say they have used a mobile device for their purchase.
Throughout 2019, a total of 3.7 million Kiwis have bought goods online with a combined value of 3.08 billion US dollars. The biggest expense with 3 billion US dollars was made up of travel and accommodation expenses, followed by fashion and beauty (US$956m), toys/DIY and hobbies (US$760m) and electronics as well as physical media (US$659m). There was a significant increase in spending across all sectors with fashion and beauty sales increasing by almost 10 percent.
The numbers continue to rise. In the first eight months of 2020, Kiwis had already spent the same amount on online goods than in the entire year before. More than 1.3 million internet users had not conducted online shopping in the previous 12 months and the age group 75+ reported an increase in online shopping of 38 percent in August 2020 alone.
The impact of lockdown
When the #Digital2020 report was published in January 2020, little was anybody to know how quickly things might change. When New Zealand went into lockdown merely 2 months later, internet usage throughout the country increased significantly. According to network operator Chorus, broadband usage at one point peaked at just over 3 terabytes per second which is the equivalent to 600,000 movies being streamed at the same time.
Considering that the current network capacity is 3.5 terabytes per second, it comes as no surprise that many internet users were reporting daily issues with their network quality and frequent dropouts while watching movies. Compared to pre-lockdown, internet usage had increased by 34 percent mostly due to people looking for alternative entertainment options after events nationwide had to be cancelled and the majority of people were forced to stay home as well as study and work from home.
Outlook for 2021
Though New Zealanders have been able to move around freely, enjoying the summer and spending plenty of time outdoors, last year's Covid restrictions and the ongoing lockdown have had a long term impact on internet usage. Many workplaces have learned from previous experience and are now embracing remote working wherever possible.
With the potential for a widespread outbreak of Covid at any time, many Kiwis are also still reluctant to join mass gatherings and continue to spend more time at home, whether for personal reasons or to conduct work and study. Furthermore, the internet remains the preferred method for online shopping, remote health advice and entertainment and provides the easiest solution for staying in touch with loved ones overseas.