Nobody really knows where the tradition originates from, but people worldwide are dreading the first of April year after year, for fear of making a fool of themselves. Friends love playing pranks on each other and even corporations get in on the fun with fake news circulating on TV, in newspapers and social media. Some jokes are easily spotted, while others are so well done that even their makers are unsure at the end of the day whether there might be a grain of truth in it. Here is a list of the best April Fools' Jokes of 2019.
1. Hogwarts opening in New Zealand

Hearts of hundreds of Harry Potter fans must have shattered earlier this week upon realizing that the announcement of the arrival of The Wizarding World of Harry Potter in mid-2020 was nothing but a hoax. The magical theme park was said to be opened in Waiwera just north of Auckland, costing $7 billion and creating more than 800 jobs in the region. Sadly, no magical spells will be cast in New Zealand for the time being. But again, if there is magic involved, you just never know.
2. Pineapple Lump Pizza

A true Kiwiian pizza was promised to us by Pizza Hut, combining the traditional Hawaiian Pizza with real Kiwi pineapple lumps. Mouth-watering, you'd think. Pizza Hut even had the pictures to go with the news. Sadly, this too was nothing but wishful thinking. However, there is nothing stopping you from trying out this recipe for yourself. While Pizza Hut hasn't put it on the menu just yet, someone else might snatch up the idea and roll with it.
3. Onion Dip Ice Cream

Ok, the lack of pineapple lump pizza some might actually find a bit sad. However, did Countdown seriously believe people would fall for this? On Monday, the supermarket chain announced the launch of a brand-new ice cream flavour "only Kiwis could love". Whether the creamy onion dip dessert could have been top or flop will yet to be revealed, as it's just another April Fools' joke.
4. "The Rock" and "Aquaman" aim for the All Blacks jersey

How would you feel about two of Hollywood's great legends teaming up with New Zealand's national rugby team? It's no secret that both Dwayne "The Rock" Johnson and Jason "Aquaman" Momoa have long been fans of the All Blacks. However, the news of the duo signing up with New Zealand Rugby may have actually sent a ripple of shock through Aotearoa rather than tears of joy. It's all good, though. The All Blacks jersey will not go to Hollywood just yet.
5. The all-weather wedding dress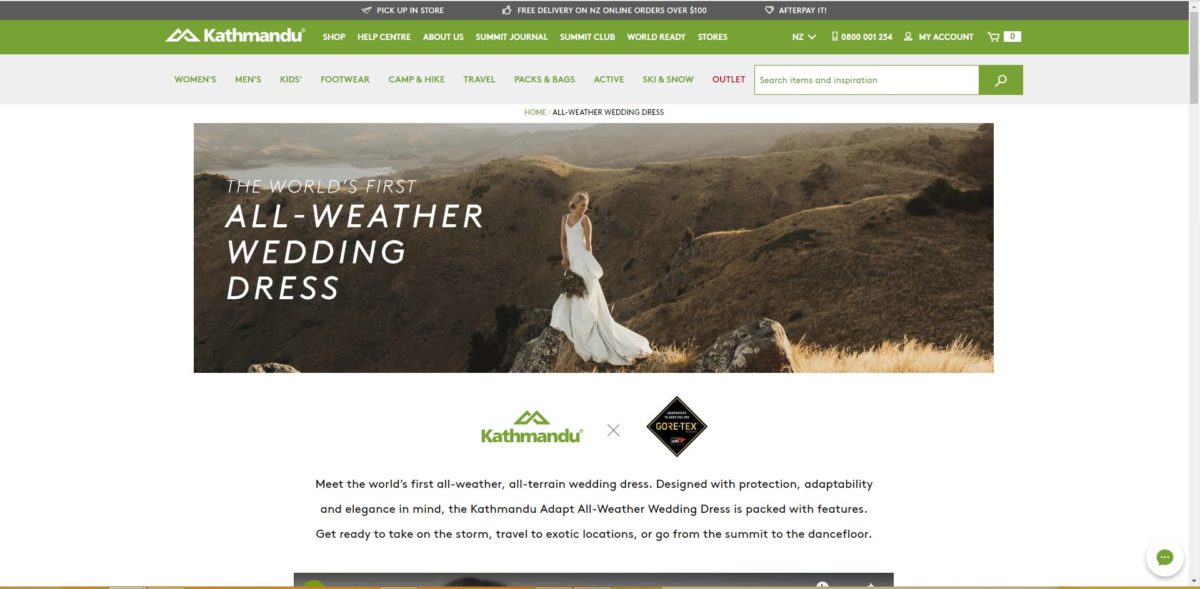 Kiwi brides were probably hoping this one to be true. Outdoor retailer Kathmandu announced the release of their first ever wedding dress made from Gore-Tex, a material usually used in wet weather gear. With practical features such as the train turning into a cape, this designer clothing item could have seriously revolutionized the wedding market, opening up a whole new range of opportunities for couples wanting to get married outdoors in the New Zealand winter. With a "no-wrinkle promise" and the dress packing down into a travel-sized backpack, many brides-to-be were probably performing a rain dance of joy. Who knows? This might just be another niche waiting to be discovered. You can check it out here
Of course, this is just a small reflection of April Fools' jokes circulating the country this year. Other news included Dole's creation of a pineapple-banana hybrid, the Pinenana.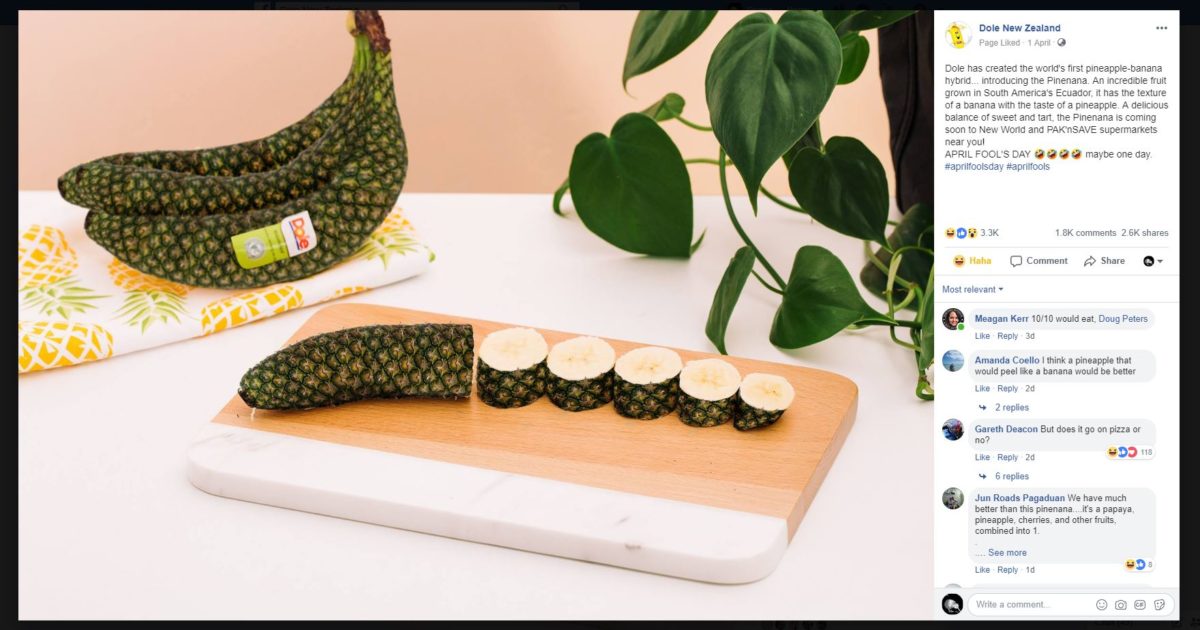 As well as a new travel platform Bedshare where customers receive 50% off their holiday accommodation if they are willing to share rooms with other guests.

Have you come across an April Fools' joke that should not be missed in this compilation" We are looking forward to receiving your feedback.